The Voice of Survivors:
'Listening to the voices of those who have survived any form of oppression is crucial as the truest way to get to the heart of that which has been survived'.

-Rachel Moran, SPACE International
Survivor leadership has been critical to the TORL campaign, demonstrating strength, courage and activism. The natural authority and breadth of first-hand experience of survivors makes survivor activism a powerful mechanism for change.   TORL promotes survivors' active engagement in the campaign and the issues directly affecting them. Survivors of the sex trade, and those still effected by it, are central to TORL with many taking an active part.   Their voices were further supported by the participation of frontline services, working with those affected by the sex trade, who are not in a position to publically advocate or campaign themselves.
The issues of sex trafficking and exploitation within the commercial sex trade in Ireland is invisible to many, as it is mainly indoors. The campaign want to ensure that any visuals or representation of those effected was communicated directly by survivors or influence and informed by same.  The campaign was coordinated by a core group with representation from Space International and survivor activists Mia De Faoite. Both were powerful advocates for the campaign.  We were fortunate to have a strong survivor activist voice to inform and persuade key decision makers.  We also had their expertise and knowledge, as expert witnesses, to inform any visuals or representation designed and used by the campaign.
Challenging popular misconceptions about prostitution is key to the campaign's work. Members of the public, both in Ireland and abroad, often have a limited understanding of prostitution, the effect it can have on individuals, society and its connection to organised crime. Given this lack of understanding, by drawing on the lived experience of prostitution and sex trafficking, survivors continue to influence decision-makers, raising awareness of the challenges facing survivors.  With the participation of survivors, TORL gained the attention of policy makers and legislators, raising awareness of the experiences, needs and demands of women who have experienced prostitution and trafficking. A key moment in boosting political support was a decision to bring the voices of survivors to the attention of politicians and key legislators who were visibly affected by their testimony.
The campaign strove to be a safe forum for survivors to share their experiences, shape the conversation among the public and policy makers, and guide supporters towards actions they could take to support efforts against sexual exploitation and trafficking. With survivor activists, TORL mobilised and called on legislators to ensure that victims are adequately supported, while those fuelling trafficking and exploitation are held accountable.
We are so grateful to the many courageous, outspoken survivors who generously shared their time and expertise with us, both individually and collectively.
SPACE is an international organisation, formed to give voice to women who have survived the abusive reality of prostitution.
There are a number of additional ways that survivors participated in the campaign, to communicate stories authentically.
The Not Nastasha exhibition which traces the lives of young women and girls caught up in sex trade in Europe.
The Price of Sex is a feature-length documentary about young Eastern European women who've been drawn into a netherworld of sex trafficking and abuse. Intimate, harrowing and revealing, it is a story told by the young women who were supposed to be silenced by shame, fear and violence. Photojournalist Mimi Chakarova, who grew up in Bulgaria, takes us on a personal investigative journey, exposing the shadowy world of sex trafficking from Eastern Europe to the Middle East and Western Europe.
Survivor participation and witness: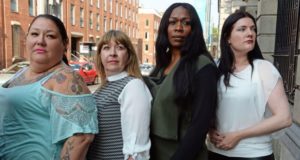 A key moment early in the campaign, in boosting political support was a decision to bring the voices of survivors to the attention of politicians. A packed briefing galvanised support, most notably male politicians were swayed by the authentic voices of survivors.  The survivors outlined the reality of the sex trade in Ireland, the impact on their lives and the difference they believe the proposed legislation would make.
Later at another crucial point, Representatives from Space International present their experience of the trade to key opinion formers in Ireland.
Rachel Moran, a survivor of prostitution from Ireland, looks towards the Dáil to pass the Sexual Offences Bill, to criminalise the purchase of sex and recognise prostitution and sex trafficking as violence against women. She was joined yesterday at Leinster House by other brave survivor/activists from SPACE International: Bridget Perrier (Canada), Fiona Broadfoot (UK), and Ne'cole Daniels (USA), who shared their testimonies of survival and called for the Irish government to make the Sexual Offences Bill an urgent priority.
To further communicate this voice, we communicated key comments and quotes from the women, through social media.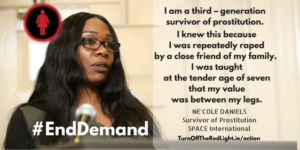 Images and representation:
From the outset, it was agreed that there must be a balance struck between representing the experiences of abuse and vulnerability in sex trafficking, and the need to avoid showing those affected as weak or victims. Therefore, images and statements were chosen where possible to contrast the inner strength of the women affected and the stark reality of their experiences.
Making direct eye contact with the camera, and thus the viewer, we aimed to challenge audiences to reflect on the reality of what too many women, children and men were going through in Ireland.
Branding for the campaign put women at its centre, and chose colours that reflected its serious nature: red and black.
Statement by Mia De Faoite, Survivor of Prostitution:
The reason I began to speak out about prostitution was that as hard as I tried I could find no justification for what I had experienced there or what I had witnessed others experience. At first I didn't know where to place that information or even how to write it down, I was still trying to make sense of it all. I could not stop thinking about my friends, I had left them behind. The women I had stood beside for 6 years had wrongly considered me to be of more value than themselves, they felt sorry for me, as one of my friends said one night, "I was born with nothing, I grew up with nothing and I'm still nothing but it must be so hard for you to have had a life and to have lost it all" but I thought no that's not the way it's supposed to be. Their reaction to me didn't tell me or confirm to me that I was in some way special, no it told me one thing and one thing only, just how little value they placed on their own lives. That isn't the way it should be where young girls grow up believing they are nothing and believing that the way they are treated is acceptable or justifiable because of their background or the street they were born on. That, they except being raped or beaten as just part of it, a consequence of their actions. The violence and rape that happens in prostitution is frightening and disturbing. I am also a survivor of multiple rapes. And any system or industry which allows the violent sexual crime of rape to thrive should be shut down; we shouldn't even have to debate it. Some of my friends on the street had figured that if anyone was to make it off the street that it would be me. They were right and believe me, given the disturbing statistics, I truly know how lucky I am and because of that I now believe that I have an absolute responsibility to ensure in whatever way I can, that the true face of prostitution is made visible.
For me prostitution is when a woman ceases to be seen as human and becomes a trapped mind that lives in a body which no longer belongs to her. How our trapped minds cope depends on a wide range of things, too complex to explain briefly here. You see, prostitution is like inception and it messes with your mind. I knew women who used their real names and would defend their position, to me this was frightening because it meant they had lost all realistic hope that this could change and had begun to find a sense of value in their own exploitation, contented acceptance, fuelled also by the master manipulation of buyers. I believe that there is a fundamental difference between, "Choosing to become" and "defending what has become of you" and the wise researcher gets and understands this concept. We learn and pick up survival skills; we use laughter as a coping mechanism, we only trust each other for we know what the world thinks of us, those messages come in loud and clear. There are no messages that we are ever welcome back, we have become the worst insult a woman can call a woman or a man can bestow on a woman. We sign a social contract that comes with the highest cost. In the small print of this contract the terms and conditions are harsh, disturbing and unjustifiable. So it would appear to most that we stand free on the street and yet everywhere we are in chains.
I walked off the Burlington Road, on the 10th October, 2010. It was a social worker who took me away from the street; she could see choices that I just could not see. I knew that I had done some serious damage to my mind and I was terrified about what would happen once the heroin, which blocked it out, was removed. She placed me into the care of a consultant who took care of me medically and assigned a clinical psychologist to work with me to help overcome Post-Traumatic Stress Disorder and disassociation. I worked with her for nearly five months, which was so hard and intense at times. I then went to Ruhama, which is an organization which looks after women affected by prostitution, and was assigned a case worker who helped me examine every part of my life, from the practical to the painful. And then I began my educational journey with an access to third level course which then lead to me gaining a place at university. So even though it took me reaching inside myself and drawing on every piece of strength I owned to overcome and find my want back to normality, it didn't begin with that. That strength grew with time. I didn't just decide one day that I had had enough. I didn't have some sort or an epiphany. The only thing that saved me was human intervention and lots of it.
I have always felt that although it was heroin that bought me to the street it was prostitution that bought me to me knees. It exposed me to such human wickedness, wickedness that was to change the way I saw the world forever. For although the rapes and beatings I endured broke me down bit by bit, it was witnessing the suffering of others and not being in a position to do anything to stop it that broke me inside. I am now in that position and have been for the past four years, when I joined a remarkable team of people and together we have fought for a law which we profoundly believe in, which can put a halt to the suffering. The reason this law works is that it makes those responsible for its existence accountable for their actions.
I had lived and had valuable insight into the system. The ability to empathize with the prostituted appeared to be blocked. I had insight into what it meant to be prostituted and how it felt like to be there. I could put a human face to the research. I wanted for people to forget what they had ever read or heard or imagined about prostitution and come with me when I spoke and see the world how I saw it and then see if they could find a justification for it. The best research comes from long in-depth interviews with a reliable informant and I am one.
Rachel Moran, founder of SPACE International
The Experience of Survivors
Alan O'Neill, The Men's Development Network
Survivor Engagement
x
Senator Ivana Bacik
Labour Party
x
Case studies
(All stories have been edited for length and clarity and certain stories were translated from the survivor's original language. Where applicable, pseudonyms have been used to protect the survivor's privacy).